How to create a customized WhatsApp sticker pack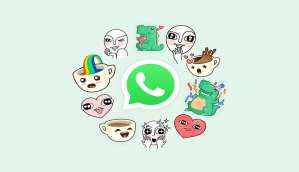 The messaging-app giant, WhatsApp, recently added a sticker-sharing functionality on Android and iOS that allows users to express themselves in a way apart from the status-quo emojis. Stickers are typically animated graphics that are usually based on moods, themes and other such categories. Stickers, however, are no new feature since they have been prevalent in other messaging app rivals like Hike and Telegram. However, since its inception, WhatsApp stickers have transcended to high popularity in India as witnessed during Diwali, where countless users utilized the new functionality to send festive greetings.
Diwali Stickers for WhatsApp, WAStickerApps allowed users to send festive greetings
Unfortunately, the stickers that come preinstalled in the app are quite generic which cause users to crave for customizability. Although various additional sticker-packs can be downloaded from the Play Store apart from the select few available, the ability to create customized sticker packs was desired by WhatsApp's large user base as well. The users finally have an avenue to rejoice since a third-party app now allows the creation of custom sticker packs that can be added to WhatsApp and shared with your friends and family.
The easiest method we found to achieve this end is a third-party sticker creator app for Android only called 'Sticker Maker for WhatsApp' by Viko & Co. Most users would assume that creating sticker packs would be a tedious process which could possibly employ some level of coding, however, this third-party app has simplified the process tremendously. Here's how you can create your very own personalized sticker pack and import it on WhatsApp.
Download the App
Sticker maker for WhatsApp allows users to create customized sticker packs
Head over to the Play Store and download the app named 'Sticker maker for WhatsApp' for free on your Android device. You can verify the authenticity of the app by checking the name of the creator- Viko & Co. Download and install the app.
Name your sticker pack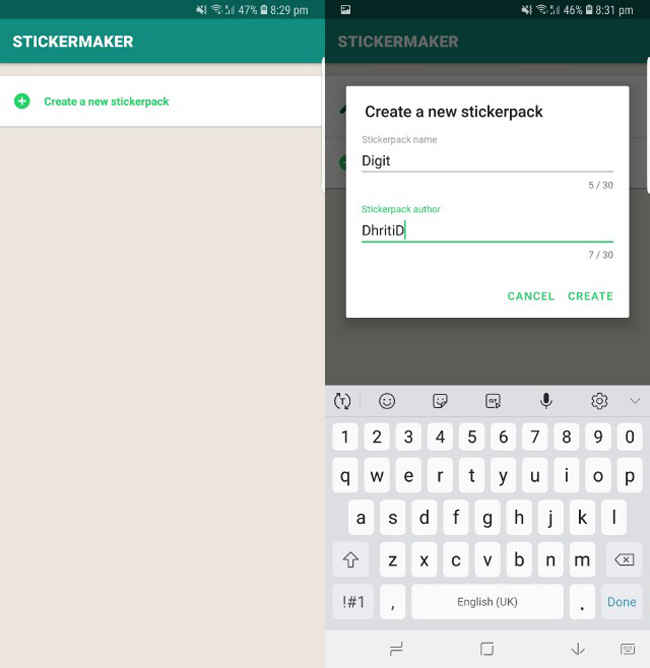 Enter your sticker pack and author name in the pop-up window
Once the app has successfully installed, open it and click on the button that says 'Create a new stickerpack'. Following this, the app will open up a pop-up window which will allow you to add a name for the sticker pack as well as the author name. Hit 'Create' once you have entered the required information.
Assign a picture or 'tray icon' to your sticker pack
Click on your sticker pack to open it and you will be greeted by a page containing empty placeholders for your customized stickers. Heading the page is an empty placeholder for your sticker pack's 'tray icon'. Tap on the 'tray icon' placeholder and the app will prompt you to either take a photo immediately or choose one from your existing files.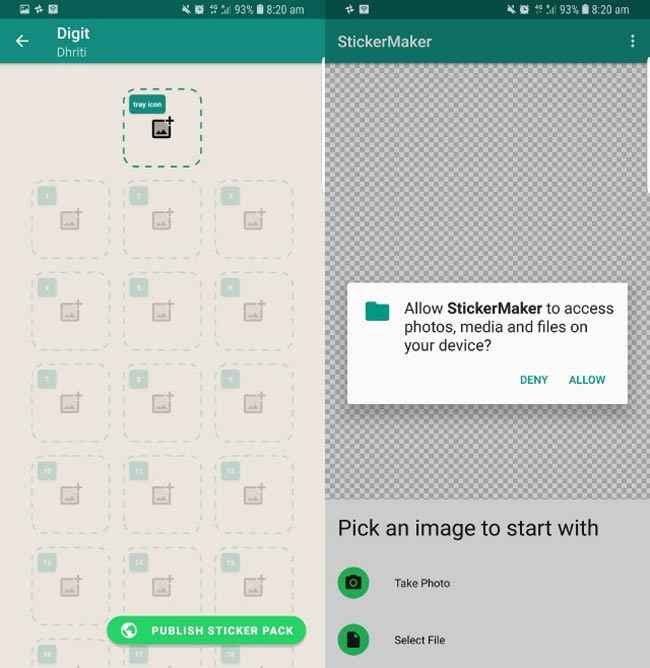 The app allows you to create up to thirty customized stickers
If you choose the latter, the app will ask you for permission to access your photos, files and other media on your device. Click yes to enable the app to access these files.
Note: The tray icon will not appear as a sticker, it is merely an identifier for your sticker pack.
Create customized stickers for your sticker pack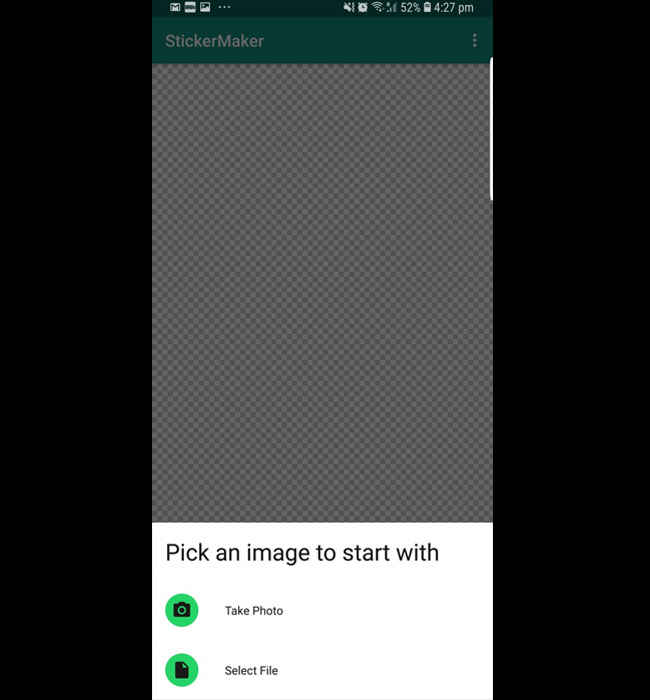 You can choose to either click a picture or select an existing file on your device
To create a new sticker, choose any image from your device files or click a new image with the 'Take Photo' option. Once the image is chosen, carefully trace an outline around the part of the image you want as your sticker. The outlining process may not always be very precise, however, you can pinch and zoom to enlarge the image to ensure better results or retry again by resetting the crop if you mess it up. When you are adequately satisfied with your selection, click on 'Yes, Save Sticker' and the sticker will be promptly added to your collection.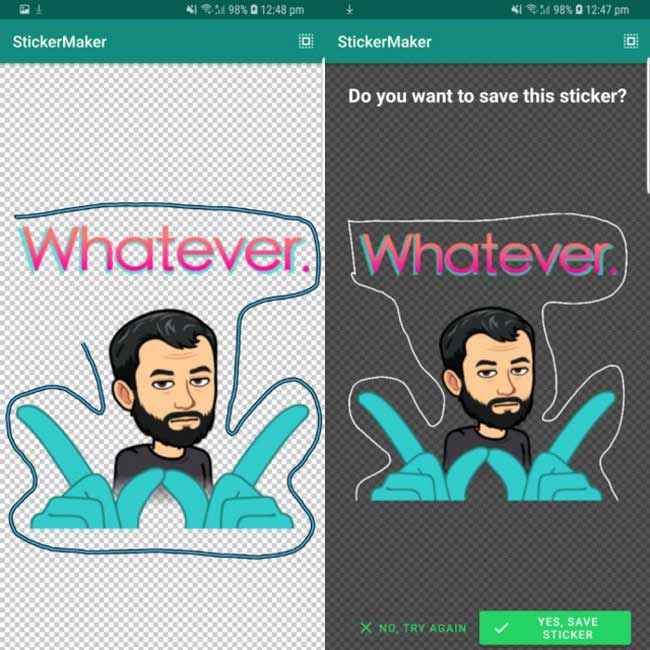 Draw an outline around your image and click on 'Yes, Save Sticker' when you are satisfied with the result
The app facilitates users to create up to thirty custom stickers in a single sticker pack. Fortunately, you do not need to fill all thirty placeholders to publish a pack. A minimum of three stickers is required to publish a sticker pack to WhatsApp.
Publish your customized sticker pack
When you are satisfied with the goofiness and absurdness of your very own customized sticker pack, you can click on the green button on the bottom right which says 'Publish Sticker Pack'. However, make sure that you fill the sticker pack up to your heart's content since a sticker pack cannot be edited once it has been published to WhatsApp.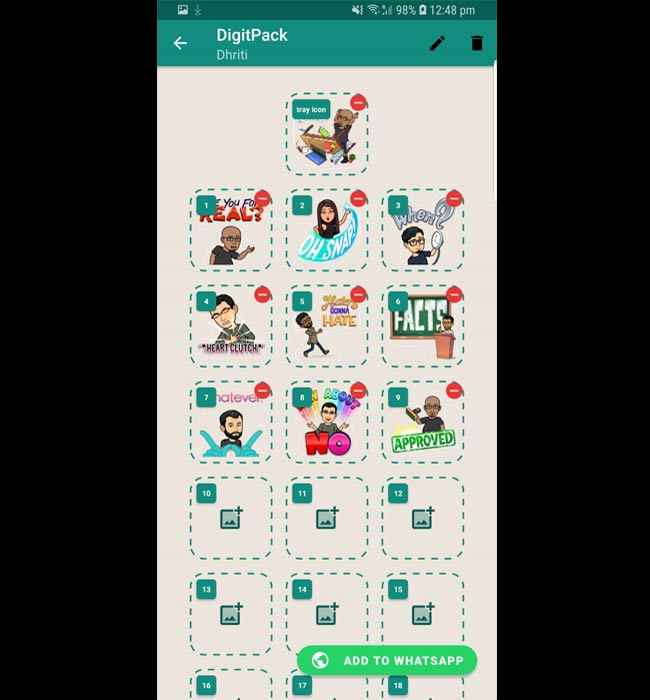 Click Add to WhatsApp when you have added all your stickers
When you click on the green button to publish your sticker pack, the app gives you a prompt that lets you add the customized sticker pack to your WhatsApp. Only you can use this sticker pack since it is technically sideloading the sticker pack onto your device. However, once you send across a sticker from your pack, the recipient can add that sticker to their favourites and use it in their chats as well. Pretty neat!
Show off your customized sticker collection on WhatsApp
Ultimately, you can head over to WhatsApp where you can see your very own customized sticker pack in action. Click on the 'Smiley' icon in any chat and find your way to the stickers tab. Voila! Your entire collection is right there, ready to go. You can now send your own personalized stickers to your friends and family.​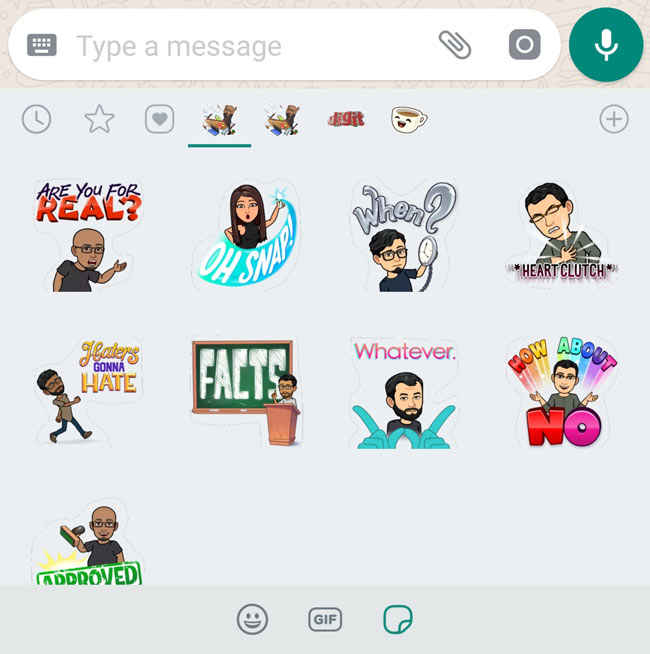 Check your personalized sticker pack on your WhatsApp in the stickers tab
Sticker maker for WhatsApp is extremely convenient and user-friendly. You can easily spend a considerable amount of time engaged in unleashing your creativity by making these sticker packs. However, the ads can get annoying sometimes. Also, the functionality to share your entire sticker pack with your desired contacts is also unavailable as of right now. Nevertheless, the app is fun, easy-to-use and engaging.
Have you created any wacky or goofy sticker packs of your own? Send them over to us at editor@digit.in. Do you want to learn how to create your very own Android stickerpack application that can be published on the Play Store? Check out our article on how to do the same here.